Expanded Liner Notes for
UKEBOX by Steven Strauss
01 Speevey
Django Reinhardt and Stephane Grappelly were the take off players in the Quintette du Hot Club de Paris. The group recorded nearly constantly, and the two frequently made up tunes on the spot. Speevey would seem to be one of those tunes. It was recorded once, and it was never released during their career. In the very last eight bars Django, seated right by the mic, began whomping the strings of his guitar so loudly it was sure to "foul the take," as if something about the performance had rubbed him the wrong way.
In the last ten years or so the recording has been added to the Django anthology, and jazz manouche players are starting to learn it and play it in tribute. I fell in love with this oddly simple piece of music while playing bass in the Hot Club of San Francisco under the direction of the spectacular gypsy-jazz guitarist Paul Mehling.
I rescued a boy from drowning once, and in gratitude his parents got Bobby Black to come into the studio and play his no-pedal steel guitar on this tune with me.
.
.
.
02 C'est lui que mon coeur a choisi
In the early eighties I was writing out lead sheets for extra cash; give me a cassette and twenty five dollars and I'll bring you a piece of staff paper with the melody and chords written out. Rowena Kaiser, studying trombone at the time, brought me a tape with two songs by Edith Piaf, and getting the melody exactly as played was a new challenge. The style was unfamiliar to me, and the chords changes were timed in a way so unlike those of jazz standards. It took me more than twice as long to figure out than a jazz standard, but by the time I delivered the work I had every bit of it floating around in my head.
Seth Asarnow has a bustling career playing piano (and occasionally string bass), but his passion and his mission are bound up in the bandoneon, the Argentine tango accordion. Even on this sonically asymmetrical squeeze box, notorious for its idiosyncratic layout of pitches, Seth is one of those enviable "think it - play it" musicians. After a gig together at the Fairmont Hotel in 1988 he showed me the works, and I am still recovering. He played me the theme from Lost In Space, having never played it before on the bandoneon, slowing slightly here and there to grope for the right pitch. When it was over he had to figure out how to play the original theme from Lost In Space, the one that was superceded after the first season. I am in permanent awe, and never more so than when I hear him play on this lovely French cafe waltz.
.
.
.
03 Lazy Moon
Laurel and Hardy first starred in a U.S. feature film in 1931, in "Pardon Us." Their characters, afoul of the law with some bootleg liquor, must run and hide. The hiding part includes secreting themselves into a blackface minstrel troupe; Stan Laurel performs an intoxicating rubber legs dance culminating in a mud puddle, but first Ollie pipes up like a boy tenor, entirely recognizable under a smear of burnt cork, to sing what even then was a hoary old chestnut, 1905's Lazy Moon, by Bob Cole and J. Rosamonde Johnson.
I asked the great traditional fiddler Suzy Thompson to make up an old string band type melody to fit the chord changes of this number, without letting her know what the tune was. She brings us a mournful old moan, buffeted by the stately tuba of Rick Elmore and the softshoe shoosh of percussionist and drummer Kevin Mummey. All throughout the tune is adorned with the impromptu stylings of jazz violinist Julian Smedley, who also reads down the string section finale like a pit orchestra at the operetta.
The multitalented Rick Elmore
.
.
.
04 The Beer Barrel Polka (Modranska Polka)
Concert scale "Frisco Uke" by Marc Silber and Chuck Fayne
Not a very old tune at all, but an enormous hit right from the git, and the USA's greatest contribution to the broad-ranging and misunderstood canon of the polka. Flat-picker Eric Thompson learned it from the proto-bluegrass stylings of Reno and Smiley, and his observance of their subdominant harmony on the second theme creates a palpable tension with the dominant ninth feeling of the original. If this tune's not exciting enough for you, you can put the record back; in the picnic lunch this recording aims to be, this is the energy drink.
.
.
.
05 Stella By Starlight
I'd heard jazz saxophonists soloing on these changes forever, and I thought I knew how Stella By Starlight went until I heard it sung by Tony Bennett in an early sixties recording. It's not hearing the words that made the difference, but Tony's relaxed and sure-footed apprehension of the widely-pitched melody, just divergent enough from the printed score to sound like he had it tailor made. I can't hear it in my head any other way.
I started to pick it out on the 'ukulele as a gag, confident that the limited compass of the instrument would defeat such ambition. To my surprise I found all the notes I needed - just barely. Making me sound like a jazz player are the impeccable drummer Kevin Mummey and Julian Smedley, sophistication itself on the very jazzy violin.
.
.
.
06 I Am So Proud
Here's the other outrageous reach that didn't crash and burn, my setting for guitar, string bass, and three 'ukuleles of a trio from Act I of Gilbert and Sullivan's masterwork The Mikado. In it three men take turns giving reasons that they must regretfully decline to offer their necks on the chopping block when "a victim must be found." They make lovely excuses.
On the subject of excuses, I played a little bit of one part and then a little bit of another, switching instruments under the skeptical supervision of co-producer John Rewind. I hardly noticed that I kept titching up the pitch on each instrument to be slightly higher than its accompaniment, until the whole enterprise wound up more than just pennies sharp from standard tuning. If you are playing along with this CD you will lose all patience with your practice somewhere during this track.
.
.
.
07 The Donkey Serenade
Allan Jones broke both rules of show business singing this song in a movie. Amid the vocal interjections of a little boy he sings this serenade to the donkey pulling him in a cart.
Musical illusionist Scott Young brought his box mute and his trombone to the studio, knowing how quietly I play 'ukulele, and gave out with a couple of simply perfect parts, this one evoking the post-horn of a mounted rider. Even though the 'ukes chug along throughout, it is when Scott holds out a plain vanilla long note above the rhythm that the track seems to go airborne.
Scott Young, Honky Tonk Man
.
.
.
08 Surrey With The Fringe On Top
Blossom Dearie's record of this song was a revelation to me. I'd previously regarded it as one of Richard Rodgers' dumbest tunes, and one of the least dignified lyrics in the history of the musical stage. Blossom brought her cool jazz touch on the piano to it, slowed it down to a walk, and sang it in an intimate whisper. At once I realized, this is a song of surreptitious seduction, and calculated to draw the listener into the singer's embrace. It worked on me.
I picked up the tempo just a little from hers and enlisted super steady Kevin Mummey on drums, just to make it easier to impose a kind of Louis Jordan and his Tympani Five steady throb to the melody. The remarkable Scott Young and his quiet trombone, fresh in from that downhill romp on a donkey cart, cool it down in perfect step with our well-used pair of snow white hosses.
Scott Young arranged the National Anthem for the voices of his honky-tonk band, Red Meat
.
.
.
09 Feria de las Flores
This Mexican waltz has been around the world, from mariachi to Nat King Cole to exotica organist Korla Pandit, from whose recording I taught myself the tune. (He got some of it pretty wrong, and in standardizing the tune for myself I've only halfway corrected the error.)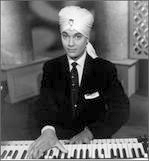 I'd been acquainted with it from my days in Bradley Jaye Williams' conjunto Los Pinkys, where we played it as a polka, following the example of accordionists Flaco and Santiago Jimenez.
It was as a waltz, though, that it endeared itself to me.
Magician Seth Asarnow lifts my 'ukulele up on the shoulders of his broad bandoneon once again, creating an atmosphere of fountains and hummingbirds with his fluttering and trilling and burbling. Percussionist Pete Devine, with nothing but a nose flute, turns up the atmosphere to eleven, stimulating an ad hoc chorus of wild birds outside Mike Wollenberg's hillside studio in Canyon, California.
.
.
.
10 Mi Cafetal / Ay! Mi Yacquicita
Ay! Mi Yaquicita, played by Conjunto Murrietta, was included in a collection of music from Native American accordion bands. Called "Chicken Scratch Fiesta," the album was released more than thirty years ago by Arizona's Canyon Records, a long-established label devoted to the music of Native Americans. I learned it while playing bass for California winemaker and accordionist Dan Warrick, who learned it from Buffalo, Wyoming accordionist, folklorist, and state poet laureate David W. Romtvedt, who added the catchy stop-time phrase right before the tune comes back to the top.
Dan Warrick
Wyoming's David Romtvedt
I sent some rough tracks for this tune to Austin, Texas, to my old bandleader from Los Pinkys, Bradley Jaye Williams, asking him to play on it. (He pretty much taught me how to play the cumbia in that band.) He sent the tracks back with some nifty parts, including the bajo sexto part we include in this final arrangement. Bradley was really enthusiastic and helped me through some discouraging phases of the long process of making a record without a budget. Working on this track he reminded me that during our time playing music together we had been fantasizing about a band that would play a happy hybrid of Norteño and Hawaiian sounds. "A Tiki-Mex band, man."
Bradley Jaye Williams makes the bajo sexto bark like a dog!
When it was time to finish this tune up I turned to slack-key guitarist Patrick Landeza, who's hired me a few times to play bass for him lately. Patrick understood instantly and really warmed the whole thing up. Baile! Hula! Tiki-Mex, man!
Patrick Landeza
.
.
.
11 Georgia On My Mind
Memory loss is an inevitable byproduct of aging, and I'll be damned if I can remember where all these thoughts related to this song came from. I know somebody turned to me on the bandstand and said, "Georgia was a girl!" Whether I read the rest or dreamed it, I don't know; I can't find the information I expected, but here I go anyway.
Young Hoagy Carmichael
I recall something about Hoagy Carmichael growing up playing piano four hands with his sister in the parlor, like countless American brothers of that era. I always thought the verse to this song was a lot like Liszt's Liebestraum in A flat. Liebestraum was a hit sheet music melody for playing at home on the parlor piano, and four handed arrangements were popular when Hoagy was a youngster. I have this image of Hoagy remembering this family pastime and thinking fondly on his sister, recalling the strains of Love's Dream, and making those strains the jumping off place of a grown up song about missing home and hearth and the way things used to be. "A song of you comes as sweet and clear as moonlight thru' the pine."
I couldn't resist a chance at sibling harmony with my own dear sister, Christine Emerson; we oohed through a a few measures of Billy Wilson's solo on the baritone 'ukulele. (Billy has me playing 'ukulele in his "ukecentric" combo Old Puppy with guitar whiz Kurt Stevenson and Billy's sister Cynthia Wilson on percussion.)
Billy Wilson and me
I played my RISA Uke Solid on this track. Sounds like a 'ukulele to me.
.
.
.
12 Oh! Mister Kane (A Poco No)
In Citizen Kane there's a scene at a party, where Kane and his staff are celebrating the acquisition of their rival paper's writers. A line of chorus girls comes out waggling and a man with a cane and a straw boater begins to holler, Cohan-like, this song with words about the ambitious tycoon's wealth and growing fame. Harry Ruby's words are mostly atrocious, intentionally so, except maybe "who buys the food? / who buys the drinks? / who thinks that dough was made to spend and acts the way he thinks?"
A pitiful accordion wheezes the tune in the alley after he loses the election, and the entire cast makes its curtain call to guest arranger Conrad Salinger's footlight orchestration of this flimsy ditty. Maybe hearing this tune as an accompaniment to closing credits made me think this was a natural closer for our program.
Early write-ups of the picture claimed that the film's composer, Bernard Herrmann, had appropriated a folk song called "A Poco No" for "Oh! Mister Kane," but recently published cue sheets for the film score actually credit the tune to a Mexican pop-song writer named Pepe Guizar, who, under the name Jose Pepe Guizar Morfin (el Pintor Musical de Mexico), published the Mexican standard Guadalajara.
Pepe Guizar, looking very WSJ
Rick Elmore
Rick Elmore's buoyant tuba succeeds a bass line established by jug virtuoso Pete Devine, who takes up a pair of brushes and pops some old-time flavor out of his antique store drum kit.
Pete Devine, people!
- - - - - - - - - - - - - - - -
All other parts played by Steven Strauss on the concert scale Frisco Uke by Marc Silber and Chuck Fayne, a Fluke 'ukulele, a 2000 Martin SO Model soprano 'ukulele, the RISA electric solid body soprano 'ukulele, Gibson tenor guitar, Harmony baritone 'ukulele, Johnson electric bass guitar, Spanish guitar, and Mid-fifties Kay string bass.
String arrangement on "Lazy Moon"
by Steven Strauss with Julian Smedley.
Engineered by John Rewind for Rear Window Music.
CD Mastering by Paul Stubblebine at Paul Stubblebine Mastering and DVD
Editing assistance and attitude lessons from Julian Smedley.
Produced by Steven Strauss and John Rewind.
Striking cover art by Heather Watts at heatherwatts.com